So You Want to Do Research in a School District? - Panel Discussion
Want to get tips and tricks for doing research in a school district? University-district partnerships provide critical infrastructure for doing locally relevant and innovative research, but it can be challenging to navigate smoothly. View our recording of a March 2020 panel for the inside scoop from UW and Madison Metropolitan School District (MMSD) collaborators on how they get things started, secure district and UW IRB permissions, share data, communicate findings and much more! This event was co-sponsored by the Network, Madison Education Partnership and the Interdisciplinary Training Program.
Panelists included:
Researchers
MEP (as research-practice partnership):
Kira Hicks, High School Multi-tiered Systems of Support Coordinator, MMSD and Katie Eklund, MEP co-director and Assistant Professor of Educational Psychology.
Independent faculty research:
Erica Halverson, Professor of Curriculum and Instruction
Percival Matthews, Associate Professor of Educational Psychology.
Program evaluation:
Annalee Good, co-director of the Wisconsin Evaluation Collaborative and Director of the WCER Clinical Program.
District personnel
Senior leadership:
Jay Affeldt, Executive Director of Student & Staff Support, MMSD.
Research:
Christopher Harrison, Researcher in Research and Program Evaluation Office, MMSD, manages the External Research Committee (ERC).
The UW IRB
Casey Pellien, Director of the Education and Social/Behavioral Science IRB
Panelist times in the video:
0:10 - Introduction by Eric Grodsky
3:00 - Katie Eklund
4:20 - Kira Hicks
7:58 - Erica Halverson
13:18 - Percival Matthews
18:58 - Annalee Good
26:16 - Jay Affeldt
31:35 - Chris Harrison
38:18 - Casey Pellien
45:24 - Q&A
---
Second Annual MEP Research Symposium

Partnering for Progress: Research from the Madison Education Partnership
April 25, 2019
The Madison Education Partnership held a successful Second Annual Research Symposium: Partnering for Progress on April 25th, 2019 at the Spark Building. The symposium, free and open to the public, focused on the research on MMSD early learning and elementary to middle school attendance.
Program PDF

We had three excellent champions of MEP introduce the event, including Robert Mathieu, Director of the Wisconsin Center for Education Research, Ricardo Jara, Chief of Staff MMSD, and Shayna Hetzel, Social Impact Investment Director from the American Family Insurance Institute for Corporate and Social Impact.
Introduction by Shayna Hetzel: Slides
We then discussed how early learning can enhance equitable outcomes for Madison students. Four researchers gave short presentations of MEP studies, followed by a panel of teachers and parents who provided their context for this work. We closed with an interactive brainstorm of ideas from the audience to carry the work forward.
How can early learning enhance equitable outcomes for Madison students?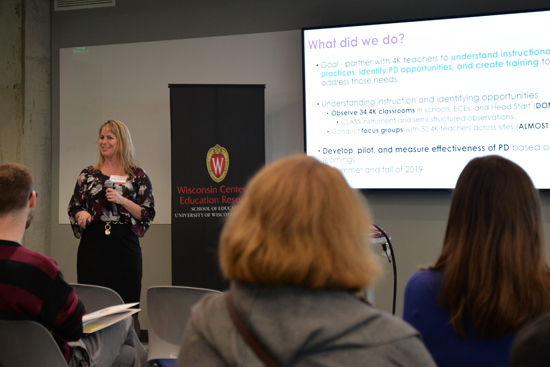 Enhancing the Quality of Instruction in 4K Study, presented by Culleen Witthuhn
Slides PDF
---
Teacher-Child Interactions, Teacher Beliefs, and Student Outcomes in 4K Classrooms, presented by Katie Ostrander
Slides PDF
Executive summary

PDF

PDF
from the research team
---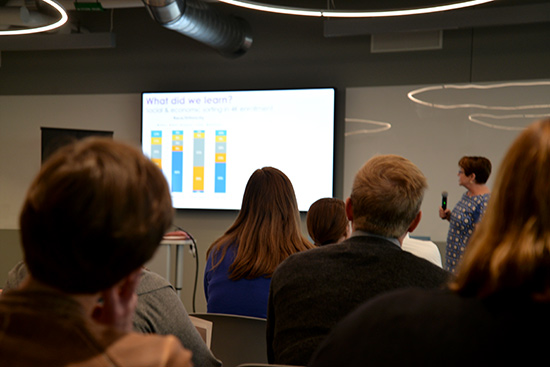 ---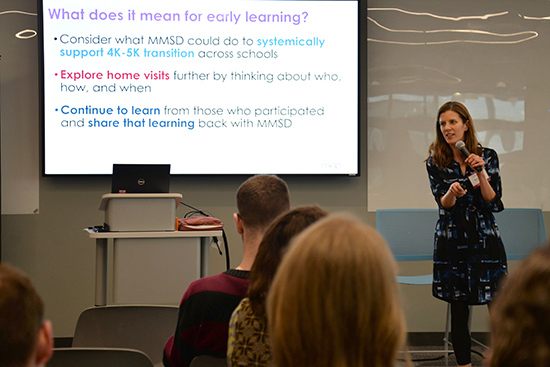 Collaborating around the Transition to Kindergarten, presented by Beth Vaade
Slides PDF
---
After a short break, we reconvened to discuss what school attendance means for equitable student outcomes. MEP presenters discussed our work around student attendance and the audience engaged in a discussion of what this research could tell us about policy and practice in MMSD.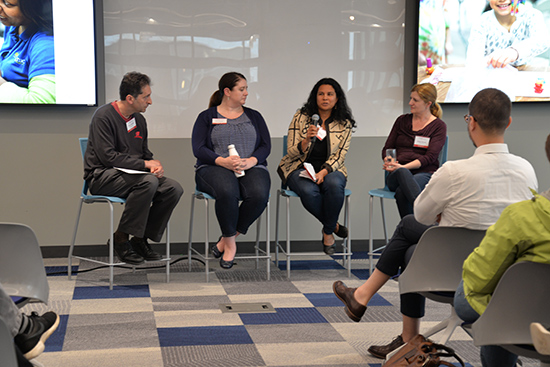 ---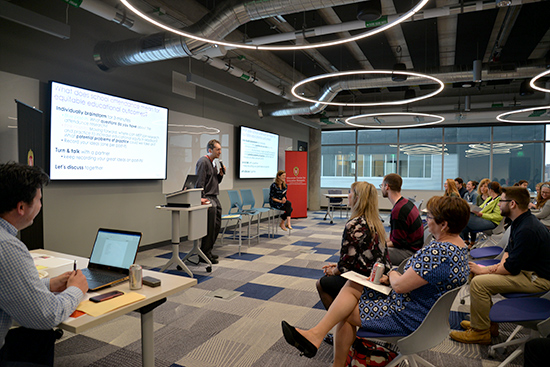 ---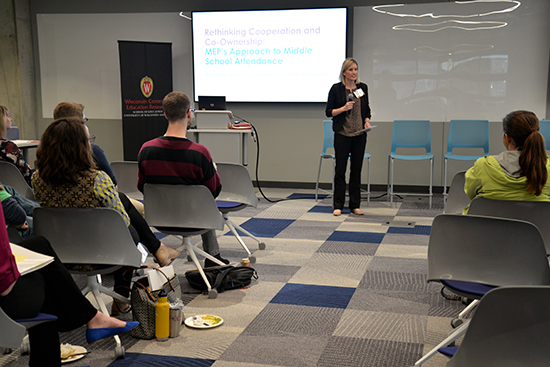 Rethinking Cooperation and Co-Ownership – Introducing MEP's Approach to Middle School Attendance Research, presented by Katie Eklund
Slides PDF
---
We centered this event around incorporating more voices into the work. To do so, we asked all participants to contribute their thoughts around the work and where MEP could work next in the district to increase equity. The full list of audience contributions and recommendations has been shared with: MMSD Department of Early Learning, Student Services, all presenters, and the Madison Education Partnership Steering Committee and Advisory Group. We have summarized the contributions below.
Audience contributions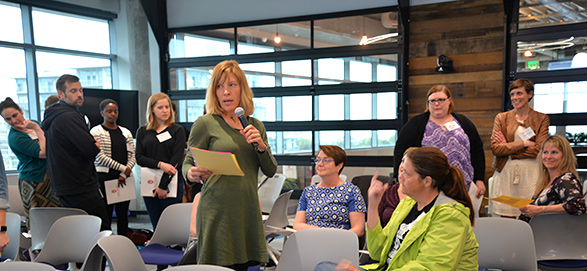 EARLY LEARNING
Issues in need of attention based on research:


Consider full-day 4-year-old kindergarten
Improve the transition from 4K to 5K
Implement 4K teacher professional development on play-based instruction
Issues to learn more about:


4K teacher turnover/diversity
Transition into 4K
Play-based kindergarten curriculum

ATTENDANCE
Joining research and practice to increase equity


Attendance among at-risk student populations
Connections with mental health supports / social emotional learning
Consistent and equitable attendance practices across schools
Thank you to all who came!
---
First Annual MEP Research Symposium
April 26, 2018
Agenda
Introduction by Bob Mathieu and Jennifer Cheatham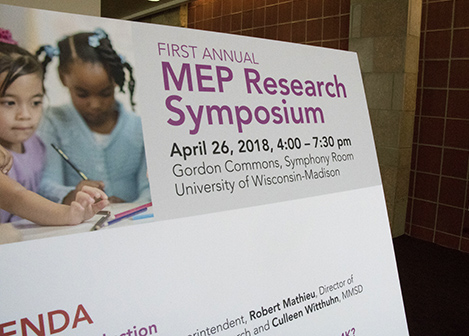 RESEARCH PRESENTATIONS
Eric Grodsky, co-Director of MEP and UW Madison Professor of Sociology and Educational Policy Studies, presented findings from two reports produced by MEP internal researchers. The presentation outlined how the MMSD 4K program enhances equitable outcomes for the district's youngest learners.
---
Alejandra Ros Pilarz, MEP supported researcher and UW Madison Assistant Professor of Social Work, discussed her findings on the challenges and opportunities 4K teachers, principals and center directors have engaging with and supporting parents and families.
Family Engagement in Madison's 4K Program: Implications for Children's School Readiness
---
Kristin Shutts, MEP supported researcher and UW Madison Assistant Professor of Psychology, presented an evaluation tool for measuring student social skills in 4K. This evaluation tool has the potential to be used alone or complimentary to current assessments.
Understanding, Measuring, & Assessing the Development of Interpersonal Skills in 4K
---
Travis Wright, MEP supported researcher and UW Madison Assistant Professor of Counseling Psychology, discussed the challenges and supports for 4K families experiencing homelessness and the impact on the youngest learners as they progress through school.
MMSD 4K: Pathways to Resilience for Children and Families Experiencing Homelessness
CULLEEN WITTHUHN PRESENTATION:
Witthuhn led the audience through several rounds of small group discussion focused on the audiences' imagining of an ideal high quality 4K environment, what it means to be kindergarten ready, and what a developmentally appropriate assessment would look like for 4K. Main themes from the audience discussion can be found below (full list of recommendations (PDF)).
SUMMARY
The Madison Education Partnership (MEP) held a successful inaugural research symposium on April 26th at the UW Madison's Gordon Commons. The symposium, free and open to the public, focused on research on the Madison Metropolitan School District's (MMSD) four-year-old kindergarten program, produced through MEP over the 2017-2018 academic year. Jennifer Cheatham, MMSD Superintendent, and Robert Mathieu, Director of the Wisconsin Center for Education Research (WCER) opened the well-attended event.
Audience Contributions
Learning Environment
4K Assessments
Kindergarten Readiness
• Physical space—quality play areas, in-class sinks and bathrooms
• Full day programing
• Inclusive and reflection of diversity in the district
• Low student-teacher ratio
• Play-based and using a variety of approaches—observation, rubric etc.
• Useful to teachers and parents in guiding student development
• Focus on academic, socioemotional and motor skills
• Ready to navigate the experience
of 5K
• Letter and number recognition
• Socioemotional skills developed enough to increase student success