MEP is governed by the MEP Directors, a cross-organizational Steering Committee, and a publicly representative Advisory Group — whose combined expertise and local insights help ground MEP's strategic planning.
Steering Committee
The Steering Committee, comprised of three representatives each from MMSD and UW-Madison, is charged with defining the current topical focus of the partnership, evaluating competitive grant applications, approving projects, and monitoring ongoing research of MEP Directors and Supported Researchers. The Steering Committee meets quarterly, rotating locations between MMSD and UW–Madison.

John Diamond
Educational Leadership & Policy Analysis
Rich Halverson
Educational Leadership & Policy Analysis
Erica Turner
Educational Policy Studies

Richard McGregory
Chief of School Operations
Kaylee Jackson
Director of Curriculum & Instruction
Andrew Statz
Executive Director of Research, Accountability & Data Use
---
Advisory Group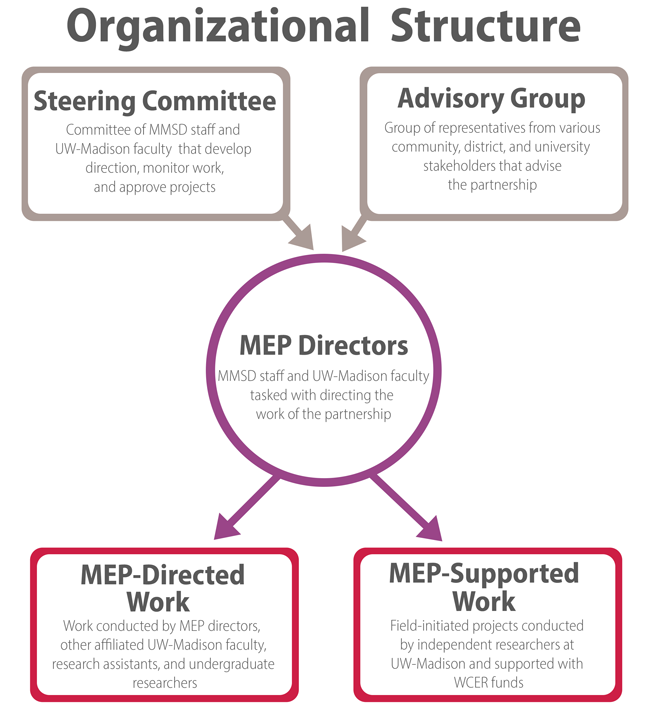 The Advisory Group is made up of representatives from the local community and interest groups, as well as MMSD and UW-Madison.  The Advisory Group meets with MEP Directors biannually to learn about MEP's progress, react to emergent issues, and offer input on future directions for MEP work.
Advisors also provide insight about critical community and district-related issues, contextual influences, and work unfolding at different levels of government and in the private sector.  In addition to sharing community and research insights with MEP Directors , members inform their constituents about MEP's work.
Hedi Rudd, Manager, Center for Resilient Cities
Karen Coller, Executive Director, Centro Hispano Dane County
Kaleem Caire, CEO, Founder, One City Schools
Colleen Clark-Bernhardt, Coordinator, Dane County Criminal Justice Council
Sue Abplanalp, Principal, Jefferson Elementary, MMSD
Pat Wongkit, Program Director, Northport Community Learning Center
Valerie Klessig-Palm, Teacher, Nuestro Mundo Community School, MMSD
Leslie Orrantia, Deputy Mayor, City of Madison
Coral Manning, Early Care and Education Manager, City of Madison Child Care Program
Student Representative
Members of the Advisory Group are collaboratively chosen by the MMSD Superintendent and the WCER Executive Director, in consultation with the MEP Directors.